Anal Update
The "Art Of Anal Pleasure" class was AMAZING.  We had a full house and 2 amazing demonstration models.  One was a gentleman who was a very experienced anal player who got to have his limits stretched by having an audience view his play.  The second was a beautiful mature woman who on the outside seemed so sweet and innocent but once she got naked and I had my strap-on in place she was voracious!  I was able to demonstrate all the anal positions I know with her.  Everyone learned something new and a good time was had by all.  I look forward to Anal August:)
Bali Trip
I went to Bali for the end of April to attend a women's retreat.  It was transformational.  Without the hustle and bustle of everyday life I was able to feel into some deep desires.  Several came up.  Here are some:
to work with more people as a sex coach over the phone and over skype
to work with more women in a healing capacity – helping with painful sex and numbness
to partner up with other professionals so I can have company when I'm working
to have more fun in my business
I'm so happy to be back home.  I love love love so many things here in Vegas – my family, my business…  I definitely missed it all.
Did you know that there are not any sex toy stores in Bali, Indonesia?  I did not until I was looking for one.  I was going to indulge in buying a new sex toy – part of the the point of the retreat was self care so I wanted to make sure to take care of myself sexually as well – and no one could help me.  I finally found out that it wasn't legal in Bally.
So when we had a free day I sought out a happy ending massage:)  Actually, I'd already gotten a few massages (they are only $15 an hour there) but none of the girls would go there with me.  I was finally able to get some relief when I went to an all male therapist place.  I had this 25 year old island boy and he was very good at taking direction:)  I felt MUCH better after that.
Happy Masturbation Month!!!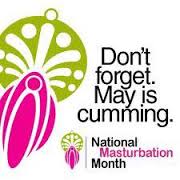 Yup, May is masturbation month.  It's something I love personally and professionally.  Professionally it's one of the most important tools I use in my sex coaching.  There are many things you can incorporate into masturbation that will have a therapeutic benefit to either overcome sexual dysfunction or expand a person's experience of pleasure.  I'm truly enjoying the work I do with people that includes masturbation coaching.  It creates a deep connection very quickly and that helps us move through issues powerfully and completely.
I put up a couple if informational videos on my youtube channel for masturbation month.  What do you think?  Click here to visit my channel
How are you?  How may I be of service to you this summer?
Please take a moment to drop a note with an update about you and yours.  Ask me any questions you might have.  Let me know if something I've shared has helped you out.