Woooh!  What a year! I can't believe how much time has passed since my lost blog post.  I've taken time to focus on other things and now I'm better than ever!  I did not stop working with people around sex and sexuality.  In fact, I held more classes and worked with more clients than ever before.
-Also-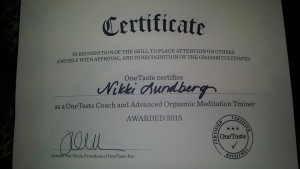 I got certified as an Orgasmic Meditation Teacher and Orgasmic Life Coach.
Yeah.  It's kind of a big deal.  I traveled from Las Vegas to New York once a month for 10 months to immerse myself into the content of Orgasmic Meditation.  I experienced things that have left me sensitive in ways I never knew possible.
Now that has ended and I have taken some recovery time to figure out the direction I am going.  And I get to share about it with you here.
In gratitude.