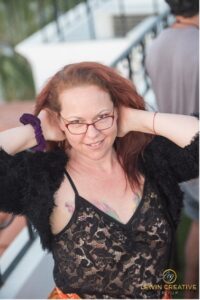 Nikki Lundberg is an expert in the field of sex education for adults.
Coming from an eclectic background, her experience ranges from foodservice and retail clerk to entertainment technician on the Las Vegas Strip and serial entrepreneur.
At the age of 24, Nikki made several life-changing decisions by getting married, becoming a mother, and starting her first major business.  Over the course of the next 4 years, she experienced much success and had many learning opportunities.  The one part of her life that she neglected was her sexuality.  Hitting rock bottom, Nikki was actually living a secret life behind her husband's back, dying inside until the day he caught her, and then his heart was broken as well.
With nothing left to lose, Nikki and her husband were free to fully express themselves – their needs and desires.  Through communicating from a completely transparent, gut-level honest place Nikki and Drew decided to re-define their marriage in a way that would work for them and evolves as each continues to explore their sexuality.  They went on to practice several different relationship styles including swinging, BDSM, and polyamory. After 12 years of marriage, they separated and although they are now divorced, they happily co-parent and cohabitate while continuing to support each other's interests.
Initially, Nikki used her natural abilities of healing and loving touch to build a wildly successful body rub business but as an entrepreneur she was still unfulfilled, knowing she could help many more people with her knowledge and experience.
Eventually, Nikki developed the courage to embrace her experience and use it as her inspiration to become an educator so she could help others find satisfaction in their love life without sacrificing their integrity.
Nikki is a natural at positive communication, encouraging others to try new things, and pushing boundaries in a healthy, productive way.  She makes people feel comfortable, relaxed and courageous so they can be free to express their most intimate fantasies and desires.  Her clients say she is truly dedicated to her work and while she obviously enjoys what she does she always stays professional and positive.
Working with Nikki is different than other forms of sexual self-help and therapy because she guides her clients not only through discussion and educational materials but also through facilitating experiential learning.
Nikki wrote "Mild To Wild: Fun And Easy Ways To Heighten Your Intimacy" and has created several successful websites.  She studied at the Institute For The Advanced Study Of Human Sexuality where she has obtained a certification in sexological bodywork in 2012.  She is also an Orgasmic Meditation teacher and Desire Based Life Coach certified by Onetaste in 2015.  Nikki earned her certification as an Energetic Sex Facilitator in 2021. She is currently in school to obtain her Bachelor of Psychology.