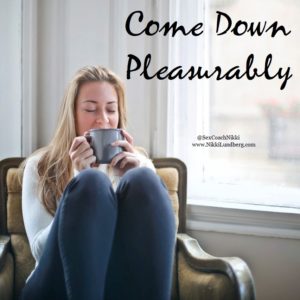 In this mindful erotic exploration article I'll cover:
What is "Coming Down"?
How does it relate to sex?
How you can "come down" pleasurably.
What is "Coming Down"
During the holiday season there are lots of emotional up's and down's. Most people go through these unconsciously and feel as though things are just happening to them. Once you start being mindful you can see how you can make choices about how you come down from being emotionally high. Some examples of going high would be gathering with friends that you love, seeing people enjoy your hard work cooking in the kitchen, spending time with your lover cocooned up in a romantic getaway, going to a convention (this is called "con drop"), end of the year work celebrations, etc.
How "Coming Down" Relates To Sex
You can compare it to the arousal cycle. First comes flirting, building anticipation, making plans and feeling the attraction. This is all building up the energy and motivating you to move forward toward the encounter. Then, you get to make out. You take your time enjoying the build-up. You explore, tease and titillate getting the most you can out of every activity you do. You may experience many peaks and valleys during your love making and you may even climax. Whenever you feel complete and stop stimulation there is a period where you come down.
This is usually the time for cuddling and talking. You don't generally jump out of bed and get back to work unless you absolutely have to.  It's nice to give yourself time to let the experience you just had sink in to your body. You may have to sleep a bit or eat something.  After a while you will feel more normal, you will come back into homeostasis.
Coming down from emotional highs in life can be very similar. Unfortunately, most people don't give themselves the time and space to come down pleasurably. It's as though they want to jump up out of bed and get right back to work without giving their bodies a chance to recover from such an intense experience.  What happens when you do jump right out of bed to get back to work? You go to work hungry and sleepy. It's difficult to make good decisions and be as productive as possible.
You Will "Come Down" One Way Or Another
The problem is – you will come down one way or another.  Just like coming down from sex, coming down from the emotional highs of life experiences can be pleasurable or rough. You come down hard/rough when you can't make good decisions and since you're sleepy you make mistakes. The way this manifests is picking arguments with your partner, having accidents, making life decisions that aren't the best, getting overly intoxicated, etc.
How To "Come Down" Pleasurably
Now that you know about coming down from emotional highs you can be mindful about coming down pleasurably. After your event or experience give yourself the time and space to come down and get back to normal. Good things to do during this time are eating healthy meals, watching funny movies, taking hot baths (especially with epsom salt), debriefing/reviewing your event with a friend or counselor, even making love and reconnecting with yourself and your partner. Also, just being aware that you are coming down will help you to notice if you are doing something like picking a fight or making bad decisions.
Above all else, be gentle with yourself.  Try to notice your behavior without judging or criticizing yourself.  Know that changing your habits can take time.  That's why this is part of a mindfulness practice – practice being the key word – where we can make progress.
Click here to check out more articles for more ideas about mindful erotic practices.
If you would like more support around coming down pleasurably or any other topic that is within my area of expertise please do not hesitate to reach out.  Click here to find out more about working with me.
Happy Holidays!
Sex Coach Nikki