I have to be honest, I haven't felt very sexy lately.  I've been a little sick with congestion and such.  I'm going to see the doctor today and most likely will get some medicine yay!  That brings me to the question – what do you do about sex when you're not feeling well?
Last year I broke my ankle.  I didn't feel very sexy then either.  Both then and now I still experienced receiving sexual desire and pleasure and being horny.  I've found I need to be even more openminded to the sexual possiblities in order to experience sexual pleasure while dealing with another problem.  Relaxing is even more important.  When I'm having partner sex I let my partner know what's going on with me before we begin to play so they aren't surprised if I'm cranky or over-sensitive.  I also take it even easier on myself than normal – less expectations, less goals, more being in the moment.  And if the pleasure doesn't flow accepting that too and not trying to force myself through it or judge myself for it.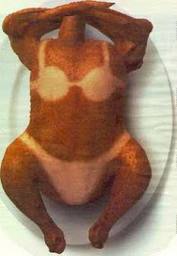 Happy Thanksgiving!
Here in the USA it's Thanksgiving week and even in the midst of being a little under the weather I have LOTS to be grateful for!  I am grateful for my family, friends and clients.  I'm grateful for all who are in my email community.  I am grateful for my sex and sexuality and my freedom to express it as much as I do.  I'm grateful for those who have decided to have some fun and share in the Naked Gratitude Project.  That will be running through the end of the month so you can still join in if you're interested.  Click here for all the details.
Coming Up
Next week I am going to be in Anaheim. California Wednesday thru Friday.  I will be available for in person sessions in the evenings  and possibly Saturday during the day.
I've been working on revamping NikkisLessons.com and I've decided – the videos will soon be available for individual purchase at Nikkilundberg.com and NikkisLessons.com will no longer be a video membership website.
I'll be writing more about this soon but I'm creating a monthly membership program that will better serve you and your needs.  You can get porn anywhere!  I want to provide you with the most realistic, easy and fun ways to expand your pleasure.  If you're interested in helping with the creating of this program let me know and you will get lots of extra benefits and discounts on top of excellent sexual pleasure education and instruction.
Creation 2013 Sex Coaching Program