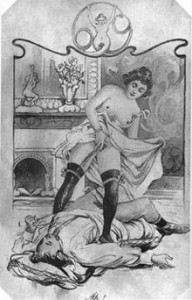 Disgusting fetishes can be difficult to wrap your mind around at first but with time and communication a certain understanding can be reached.  I recently worked with someone who had the fetish of being used as a human toilet.  This was not my first encounter with this fetish and I knew how to work through it with this submissive man.
If you are going to engage in this kind of play you definitely have to have communication first.  Talk about what kind of experience is desired.  The one making the request should be as detailed as possible so their partner can create the desired result.  Does the bottom/receiver enjoy the feeling of the weight of a body on them – their face, head and torso?  Does the bottom simply enjoy the sensation or also the humiliating aspects?  For my client yesterday he explained how he enjoyed being humiliated and objectified for a dominant female's bathroom needs, to be used as a toilet and spittoon.  He described how being made to feel small, perverted and depraved actually satisfied something inside him.  He shared about an incident in junior high where a girl bully pushed him down and farted in his face and ever since then he's had a fascination with it.  The only people willing to play this way seem to be professional dominatrix.  In all other aspects of his life he's "normal" and "average".
As a top/Dom there can be a lot of pleasure to be had from this kind of play.  Of course, someone being below you, accepting everything that comes from you with enthusiasm, that is a great feeling.  Knowing that you are helping someone to scratch their itch is important.  You are being of service to them.
For play that is very disgusting to you but that you still want to try, start out slow.  Golden showers can be very difficult to give but might be easier to start with than direct toilet play.  Seeing the excitement on the bottoms face and having their face so close to your genitals can be very arousing.  If you become aroused then urinating can be next to impossible.  It's also difficult to overcome a lifetime of training that you only pee in one place and that it's yucky to do it anywhere else.  Keep remembering it's not yucky for your bottom, it's erotic.  You may need to practice before you are able to relax enough to "let loose".  Often being in the shower and running warm shower water can help the body relax enough to release.  Also, drinking LOTS of water for the 30-45 minutes before playtime is very helpful.  Then, if you are trying to pee and nothing is coming out all you have to do is "bear down" and push and your full bladder will empty.  Having a lot of water in your system is not only healthy for the giver but will also make the play more enjoyable because your urine will smell better.
For toilet training a direct seal of mouth to urethra is great.  Positioning will depend on the desired sensations.  For my client yesterday, he not only enjoyed being used, but also the sensation of the body weight on him.  Fold up towels for the bottom to use as a pillow and to catch any urine they might miss.  This is an extremely intimate act.  It is one thing to be sitting on someone's face with them licking and pleasuring you.  It is another to be sitting on someone, their mouth sealed to you, you totally relaxing into the moment, them waiting to receive.  As fluid flows from your body to theirs you feel the movement of their body accepting and taking in what you give.  Sucking, swallowing.  Those small muscle movements provide a special kind of stimulation against the vulva and if you are leaning forward with your stomach against their throat you can feel it as those small muscles push down the liquid.
What's really great is if you can become aroused (as I do in this situation) you can lean back and masturbate right in their face.  The consistency of your fluids will change as the flow of urine stops and ejaculate starts.  The bottom can taste the difference.  If they like the objectification talk about how you like to masturbate on the toilet.  And cum in the toilet.  And now they are not just the object for your urination but also for your pleasure.  As a top, take your pleasure.  Enjoy the feeling of someone being below you and taking everything you have to give.  Lean into being of service to them and giving them what they need.
Thoughts?  Questions?  Please post in the comments section below.