Hi!
I hope all is well for you and yours!  I'm so happy to be back home.  I was in Mexico for two weeks at tantra training.  The first week was Tantric Arts Training for Women Practitioners and I learned about so much including chakras, singing to chakras, five elements massage, and timeline work.  I also learned about vulva, vaginal, and penis massage from a tantric perspective.  It was so amazing!  The second week was Energetic Sex Facilitator Training where I learned about how to teach others on an energetic level.  Feeling orgasmic energy in a more full bodied way, releasing stuck emotions, and feeling more pleasure sustained over a longer period of time than I ever have before.
March is Cunnilingus Month!  Please let me know your biggest most important questions about all things oral on pussy:)
Here is a link to my virtual class on 3/20 – https://www.eventbrite.com/e/144911033803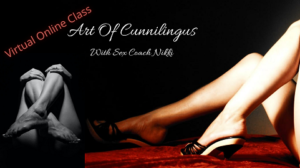 I will be posting the in-person event soon.  It will be on 3/27
New Vlogs
I was ashamed of my vagina https://youtu.be/IzlPhm0z_Lw
Chakras and cunnilingus https://youtu.be/nbFbS3NXU9s
Gratitude from Mexico – honoring the body, enjoying the journey, sitting at the feet of masters https://youtu.be/iq5l8B_lXMw
Live from Mexico – opening up my chakras https://youtu.be/DzHXWv40wFM
Going to Mexico, 1st covid test, ego death, break up break through https://youtu.be/aNTHaAwFkDU
Recap Art of Fellatio workshop – body positivity, surrendering to receive pleasure https://youtu.be/ql_mBV46BGQ
So much excitement about my fellatio class and my upcoming trip to Mexico! https://youtu.be/OhGjK9OYGQM
Polyamory, long distance relationships, and dealing with big emotions https://youtu.be/aYPeoCw7gcA
Please let me know if you have any questions about the classes or about private coaching.
Warmly,
Nikki