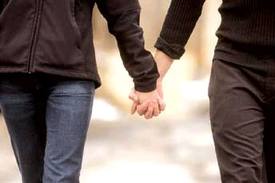 I offer lots of options during individual and couples sex coaching sessions. One option is nudity – either partial or full.  I will follow my client's comfort levels regarding this – whatever is best to meet their needs is what we will do.
I feel that being naked takes away many barriers and almost instantly releases shame around our bodies in general and our genitals in particular. Nudity also usually generates arousal and with arousal, we can work even deeper with your sex and sexuality interests.
Although her practice is very different than mine, Sarah White explains beautifully how being naked can be extremely therapeutic.  Click here to visit her site and read all about her method of Naked Therapy.
Couples Sex Coaching Session
Their comfort level is full nudity.  I set up the massage table and give him instructions to undress and lay face-down while I use the restroom and wash my hands. I come out nude and begin the massage while she sits on the bed.
As I massage him the three of us discuss our sexuality.  I ask questions about their successes and challenges and share my own. By having such an intimate atmosphere they are able to open up quickly and we are able to discuss things on a very deep level almost immediately.
When I get to the buttocks area I demonstrate and explain slow, loving touch that will be easy for her to give and very sensual and pleasurable for him to receive. Sometimes it's better to go slower and softer. The genital and anal area sometimes benefit from simply being held while aroused without any movement.
He likes anal stimulation but she doesn't love to give it – she will do it sometimes as a treat.  Many couples find themselves in this situation  – one partner enjoys something more (much more) than the other.  There are usually reasons for the dislike of any activity and usually, they can be managed if not overcome altogether.  For this couple to have more anal play for him I suggest they incorporate gloves in the bedroom.  Using gloves will increase her confidence that she will not inadvertently hurt him and it will reduce her concerns about messiness.  They could take it a step further by having him give himself an enema before their play.
Interested in booking a session for couples sex coaching?
Text me to set up a time to talk or email me with your interest.
7026746606 – text first to schedule
nikki@nikkilundberg.com