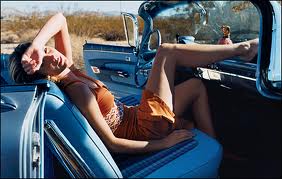 My guy (like most) is almost always ready for sex.  I (like many women) am not.  My sexual energy is often being redirected toward my business and other responsibilities and at the end of the day if I'm too tired I know I can put sex off 'til tomorrow.
A very interesting thing happened as we drove to our destination for our family spring vacation.  I realized that I wouldn't have sex on tap since my daughter would be in the same hotel room.  All of a sudden I wanted it – simply because I couldn't have it without getting creative.  This made for a very fun vacation since we were able to flirt and tease each other and I knew that we would have time to let the anticipation build.
The one time we finally did have a chance to get intimate during our trip and the time upon returning home was more intense because of the build up.  Here are some tips to re-create this scenario:
Put yourself in a situation where you know you can't have sex for at least 3 days.  Not even solo love:)
Make it playful… flirt and tease during this time of abstinence.
Have a change of scenery – whether that's a hotel room or a different room in the house.  Different locations can have different energy.
Let me know how it goes:)