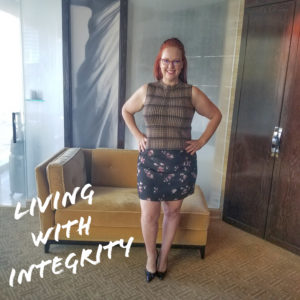 One of the major drivers in my life is integrity; Specifically integrity with myself. For me, integrity encompasses self-reflection, self-honesty, and humility. I'm writing about it because I have come to realize I've gotten out of integrity with myself. I've changed and grown. However, I'm still acting on old decisions and plans. I figured this out because of deep self-reflection and introspection. I've had to ask in many different ways questions like "what's wrong," "what do I REALLY want," "what am I ok with," "how much risk am I willing to take," etc. I've also had to do somatic work, feeling different sensations in my body, asking what they are trying to tell me. I've also done some shadow integration work. I can feel I've barely scratched the surface with these last two.
Why am I doing all this work? Because of my health and my pleasure (or lack of it) in my body. I started on a journey to get healthy in January of 2018. In October of 2017, I was told by a doctor that I would be looking at getting a hip transplant soon, and there was no other choice besides pain management. I was devastated as I was only 38 at the time.
Since then, I've faced other significant life challenges, one being the possibility of going to prison. That gave me a whole additional layer of motivation to get healthy as I could not walk up a flight of stairs, and I feared for my safety if I was going to have to go to prison.
I've done so well in the last 20 months (right now its November 2019) – lost 55 lbs, gained mobility and strength, kept my business running, stayed connected with my immediate family and friends. The thing is, now that the worst seems to be behind me, I am still struggling with motivation and inspiration. That has made me turn to assess what I am doing in my life to see if I'm still in alignment with all of it. Some of it yes, some of it, no, and some of it partially. Yes, I'm entirely grateful not to be facing the possibility of going to prison or having to live in a wheelchair. And somehow, that is not enough. I know that I've experienced genuine excitement and high energy in my life, and I want it back. That is why I'm sharing this now.
I'm creating something new. I'm not even sure what it will look like, but this is my first swing at it. I'm letting go of what is not bringing me joy at all and working toward only doing what feels truly good.
One of the definitions of integrity is the condition of being unified, unimpaired, or sound in construction. When I operate my life with integrity, I benefit from the feeling of being unified internally. When you make choices that maintain your personal structure, you don't have to deal with the inner conflict, dissonance, and turmoil that could ultimately tear you apart.
Another definition of integrity is the quality of being honest and having strong moral principles, i.e., moral uprightness. Figuring out what is correct, righteous, and ethical for you is where self-reflection and introspection come in to play. How are you going to know if what you are doing is right for you if you do not stop and ask yourself? This level of honesty does take lots of courage, as you might find you have changed. You may have made decisions that once were in alignment, but now you have changed, and you have to make a new decision. Getting back into alignment might mean you have to undo things in your life. Undoing and restructuring will affect you for sure and might affect others. Many people (and me for a long time) avoid looking at things to avoid having to make these changes. We are too afraid. Too chicken. And too lazy.
Are you the type of person that when you find a problem you want to fix it? Does living dishonestly suck the life out of you? Then you are a lot like me. Changing will mean work and possibly accepting humility as there is a part of you that identifies with your previous decisions and commitments. That part of you is going to resist change at all costs.   That part of you will not want to die or be re-defined. It's happy precisely the way it is and will do all kinds of dirty mental and physiological tricks to stay alive. But you are not your ego. You will never know unless you slow down and take a look.
If you feel like you are out of integrity and you have suspicions that you might need to make decisions, but you don't know where to start or how to navigate the process, let me know if you would like some help. I've gone through this process before, and I've helped others through the years. Sometimes having a guide, cheerleader, or accountability partner makes all the difference.