Guys – A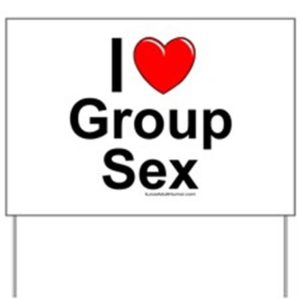 re you having a hard time getting it up or keeping it up in a group sex situation?  If so this is totally normal and something you can work through.
As a sex coach and swinger I know that for many people the thought or desire to be in a group sex situation can be very erotic.  The challenge is that we usually don't have many situations like this in our real life so we can be surprised how challenging it is to actually take advantage of these situations when they arise.  I have many people come to my classes extremely excited about the group practice time only to be frustrated because it doesn't work out they way they thought.
It is possible to work through this.  Most things we do are habitual and if you have a habit of having sex in one or two ways it may be difficult to enjoy sex in other ways or circumstances.  In order to work through this you need to practice getting to know your body better and following erotic energy more than using a set pattern that you know will work to bring you to climax.  That set pattern will not work under all circumstances whereas following the erotic energy will.
Because erotic energy is subtle and body based many of us need to practice sensing it in order to have access to it.  This is where I come in as a sex coach.
I work with you to become more mindful in your solo sex or partner sex activities.
I will witness you in solo or partner sex if that seems to be beneficial to reaching your sexological goals.
I'm able to accompany you to swinger clubs to coach you in real time to feel the flow of erotic energy in a group setting.
To be clear – I do not masturbate or have sex with you.  I do not touch you in any of these circumstances.  I guide you verbally in ways that will help you to key in to the flow of erotic energy.  Through exercises and homework practices I teach you to become more and more sensitive to the subtle sensations that feel so so good.
Email or text me to set up a time to talk about working with me so you can enjoy group sex situations to their fullest!
Warmly,
Nikki
Nikki@NikkiLundberg.com
702.674.6606
P.S.  I work with people from around the world as an online sex coach.  With the telephone and skype there are few limitations.  For people in Las Vegas I'm happy to provide in person sex coaching.  Also a disclaimer – although working with me can be very therapeutic I am not a sex therapist or marriage counselor.  If there are issues beyond my area of expertise I will require that you seek treatment from the appropriate professionals in order to get the most out of our work together.