When trying something new as a couple it's ideal for both to get coaching together.  Also, the habits of each person's solo sex will affect the couple's partner sex.
Couples Sex Coach Session For Christmas Part 3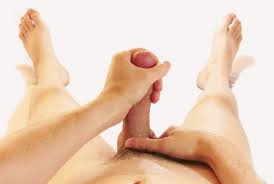 He lay on the bed on his back and I sat between his knees.  We talked about his masturbation habits and techniques.  He masturbates several times a week using porn.  I saw how he was touching himself while I was working with his girlfriend.  He used a strong grip and aggressive jacking motions. I explained that not many pussies would be able to re-create that type of intense stimulation.  He would need to change his habits in order to become sensitized for the gentler feeling of vaginal penetration.  Even for anal sex where the sphincter is tighter, he will need to go slowly at first and that could make his erection wane.  On top of all that, they want to use condoms for birth control and since condoms can also decrease sensation he needed to get his cock more sensitive to subtle stimulation.
Using my hand and lube I gently massaged his cock somewhat simulating the way a pussy would feel.  He was not able to become fully erect because of the lack of stimulation – both visual and physical.  That's the other thing about having the habit of using pornography to masturbate – partner sex is usually not as visually sensational.   A person may have no problem becoming aroused and climaxing with porn but with their partner, they may be unable to and this is why.  I explained to him that not only does he need to become more sensitive to gentler stimulation but he also needs to become more in touch with his body and physical stimulation in general so he won't be reliant upon visual stimulation.  I asked him if he had ever done PC muscle exercises and he said no.  I explained that with strong pelvic floor muscles he could consciously pump more blood into his dick and his erection would also be stronger and thicker.
Interested in booking a session for couples sex coaching?
Text me to set up a time to talk or email me with your interest.
7026746606 – text first to schedule
nikki@nikkilundberg.com